In Grandma's Footsteps, was started in 2012 after realizing my passion for antiques needed to go to a new level. Following my Grandmother's passion as well, both displaying and selling of antiques and collectibles my shop was opened.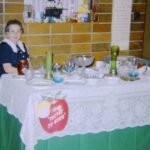 My Grandmother, Eleanor Sheekanoff was born July 4, 1903 in La Crosse, Wisconsin. In 1923, she married our Grandfather and lived in Winona, Minnesota. She was the owner of the Thrift Shop and Eleanor's Antique Shop for many years. She was the first person to display and sell antiques at the Minnesota State Fair in the Grandstand building, which she did for 10 years. We remember this so well, our father would take us to visit Grandma at her booth. She was always happy to see us and we would each get a $1.00 to spend at the fair. During the summer, Dad would put us on a train to spend sometime with our Grandparents in Winona. The house was filled with glass cases of antiques in the living room, dining room, and the porch. We'd spend many hours with Grandma telling us stories about different pieces. Grandpa wasn't far away, he'd be getting the popcorn wagon ready for the next county fair. Good times and great memories. A special Thank You to my Aunt Judy for finding this great picture of Grandma for me to share!!!!!
We are big collectors of Carnival Glass, China, Dinnerware, Glassware, Christmas Decor and Cookie Jars many that are vintage and rare. We not only sell China Sets, we specialize in Discontinued Replacement China. Not to mention collectibles such as Cherished Teddies, World of Krystonia, Precious Moments figurines, Boyds Bears, & Budweiser Holiday Steins, Collectible Dolls.
We don't have over head like many other stores, I operate out of my home office so my prices are generally cheaper. We spend numerous hours attending sales to bring you all types of items. We not only go to garage sales, auctions and estate sales but we are also vivid storage hunters. We attend many sales throughout the year and feature some of our best finds on our website for sale. All of the items we sell are described to the best of our knowledge and priced accordingly. With the descriptions we may show you the current value of some of our products along with our price. This sets us aside from other stores. We bring savings to you, the less we pay for the item, the less we charge you! Also we would like to add that most of the products we have are one of a kind so if you see it here you might want to buy it or it'll be gone. Some of our products are home made by me such as our Candy Bar Birthday Cakes, Doggy Birthday Cakes, Puppy Pages, Doggie Dude Products, and Our Family Recipes. Many friends and family members have enjoyed my creations and now I am offering them to the public. Be sure to bookmark our site and visit often, our products are always changing. 
Have fun shopping and ENJOY!!!!!